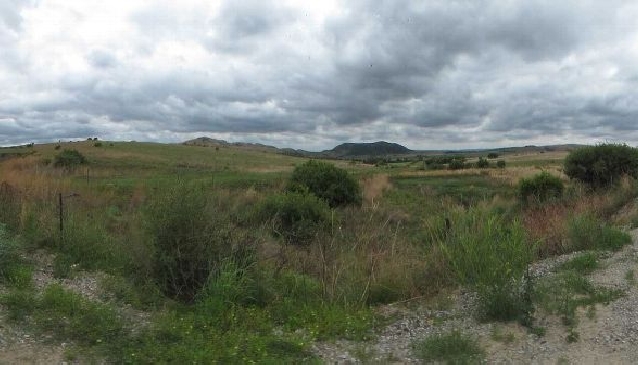 The Cradle of Humankind
...the gardens are home to a pair of Black Eagles nesting on the cliffs above the waterfall.
The Cradle of Humankind has in recent years become one of Johannesburg's top attractions, and for good reason. This unique and beautiful spot, widely regarded as the origin of what we now refer to as mankind, or just humans, is just a short drive north of the bustling city.
The Cradle of Humankind is now home to a number of fascinating museums, superb restaurants, and accommodation options to suit most tastes and budgets; a trip to South Africa is no longer complete without at least a day spent tracing your origins here.
Technically, the Cradle of Humankind lies within the Greater Magaliesberg region, and since 1999, it has been classified as a UNESCO world heritage site. As a result, over the last 6 years a significant amount of money, time and care has been invested in the area to make sure that it's not only a fantastic place to spend a day or weekend, but also that it'll be around for many years to come, while meeting the strict guidelines laid out by UNESCO.
Start at the Walter Sisulu Botanical Gardens
The Cradle of Humankind is close enough to do in a day, but to really get full value from the region, plan to spend an activity-packed weekend in the area. Make sure you leave the city of Joburg nice and early and make your first stop - the celebrated Walter Sisulu Botanical Gardens. Don't worry if you can't make it on the way there – a visit on the way back from the region is also a good idea.
Spend some time wandering the vast grounds, breathe in the fresh air and absorb everything that one of the country's best-maintained botanical gardens has to offer. Of particular interest to bird watching enthusiasts, the gardens are home to more than 220 bird species, as well as the ever-popular breeding pair of Black Eagles nesting on the cliffs above the waterfall.
Take in some wildlife
Now that your interest in wildlife has been ignited, head through to the Krugersdorp Game Reserve, where you can spot more than 180 species of animals, including various large and small antelope, as well as lions which are separated in a large enclosure.
From the Krugersdorp Game Reserve, plan to head through to the core of the action in the Cradle of Humankind – The Maropeng Visitor Centre. It's a good idea to pick up a combination ticket at the visitor centre, which allows you full access to both Maropeng and the Sterkfontein Caves nearby.
The Maropeng Visitor Centre & Sterkfontein Caves
The Maropeng Visitor Centre is an award-winning establishment that caters for all age groups. There are 2500 square meters of exhibitions that can be viewed from an exciting underground boat ride, and which guide you through the world of fossils, ancient stone tools up to 1 million years old, and how humankind was born. There is also a big emphasis on interaction at Maropeng, which makes it perfect for youngsters as well.
Leave Maropeng with combo ticket in hand and head to the nearby Sterkfontein Caves. These caves are where the famous 2.1-million-year-old skull of "Mrs. Ples" was discovered, and informative trips are taken down into the caves at regular intervals. The nearby restaurant is a good spot to grab some lunch and plan the rest of your day as well.
If you're interested in some of the world's largest and most popular animals, be sure to stop in at the Rhino and Lion Nature Reserve, where you can get up close to a selection of wildlife in 1200 hectares of bushveld.
Take in an African sunset at Heia Safari Ranch
Heia Safari Ranch is one of Gauteng's oldest and most popular tourist attractions and is set in the most perfect tranquil indigenous bushveld. Giraffe, zebra, springbok and wildebeest roam the grounds, and Heia Safari Ranch offers guests a unique African experience that's sure to leave you yearning for more. There are 50 thatched 2-bedroom bungalows to choose from, each of which have full bathroom facilities, and all the comforts to relax in the heart of the Cradle of Humankind route.
If you didn't manage to fit them in the day before, the Wonder Caves and Cradle Nature Reserve are also well worth a visit. Also be sure to pay a visit to the Lion Park, and stop in at the fascinating Muldersdrift Village before leaving the Cradle for a gentle drive back to the city. Or, of course, you could just continue on to the our Magaliesberg Route for a few more days outside of the hustle of Johannesburg.
You can still choose your own adventure
As with any tourist routes, there is no right or wrong way to do them, and these recommendations are just one such combination of attractions.