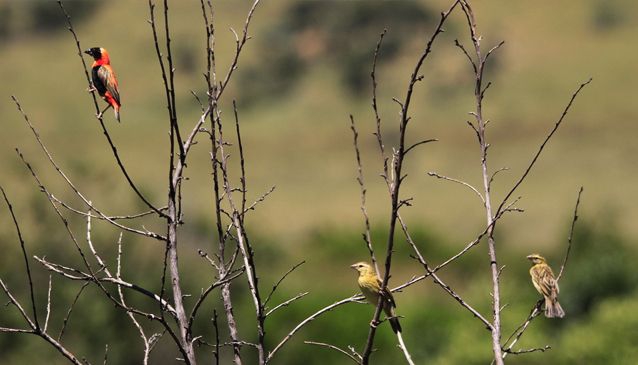 Step off Joburg's Urban Pavement...
Family Fun
Johannesburg Botanical Gardens boast formal gardens and 4,500 rose bushes
Johannesburg, like any other city, is a trendy concrete jungle, but unlike any other city in the world, it is the world's largest man-made forest with approximately 10 million trees. It is not difficult to step off of the urban pavement and explore the many nature reserves, botanical gardens and parks and lakes that Joburg has to offer…
Researching the heritage of Joburg's fauna and flora takes us to the largest proclaimed nature reserve the city has, and in close proximity to the city centre – The Klipriviersberg Nature Reserve , and better known as 'The Jewel of the South.' It is not uncommon to find a local exploring this reserve with all that it proposes - archeologically, culturally, historically (the remains of the BaTwsana village) and geologically.
The reserve lies in the transition zone between the Free State grasslands and the Transvaal bushveld and is botanically rich and diverse. If we look back 150 years – before the man-made forest – that is what Johannesburg was all about: its natural vegetation is rolling grassland hills accompanied by bushveld-type vegetation and scattered rocky ridges. Fauna in this reserve comprises a large variety of game including zebra, red hartebeest, blesbok, mountain reedbuck, black wildebeest and South Africa's national animal – the springbok.
That is not all, because 5kms northwest of the city you can find the Melville Koppies , a national heritage site also with an interest in nature, history and geology. Some of the oldest rocks on earth have been found here! Further west brings us to another Nature Reserve – Kloofendal, bordering the outskirts of the city and offering urbanites a perfect chance of escape. It also boasts a riveting and restored gold mining operation (the first one in Johannesburg) with shafts as national monuments available for viewing by appointment only. And just 6kms away is the Walter Sisulu Botanical Gardens with their waterfall backdrop and which are home to the majestic Black Eagles
Johannesburg Botanical Gardens , alongside Emmarentia Dam, boast formal gardens and 4,500 rose bushes which make for a succulent display. For the more relaxed, try Emmarentia with its great open spaces and various lakes. Today, thanks to City Parks, Joburg has over 2,343 parks to choose from, all actively serving the communities within which they lie. Other flagship parks over and above those mentioned earlier are Delta Park, Golden Harvest Park, Zoo Lake, Diepkoof Park, Florida Lake, Diepsloot Park 1, Dorothy Nyembe Park, Rietfontein Ridge Nature Reserve and Jukskei Park.
South of Johannesburg but within close driving distance is the Vaal Dam, which has over 800kms of shoreline and the Suikerbosrand Reserve, a premier ecotourism destination. Northwest of Joburg is the Cradle of Humankind , a world heritage site. The Cradle contains a complex of limestone caves, including the Sterkfontein Caves, and some of the oldest hominid fossils ever found. Further afield but still within close driving range of Joburg is Magaliesberg , a protected natural environment and mountain range as well as the Pilanesberg Nature Reserve – home to the Big 5!
With all these nature and wilderness spots, activities are wide-ranging, from horse-back riding, game sighting, canoeing, bird watching, gardening displays and hiking while appreciating exquisite sunsets, picnicking, boating, bike riding, jogging and star-gazing. For the more adventurous – canopy swinging or zip lining , kloofing, rock climbing, caving and abseiling!
That is a whole lot of open space - who says a city can't offer more than urban views and history? Joburg is a nature and adventure-lover's paradise!
Main image by Derek Keats