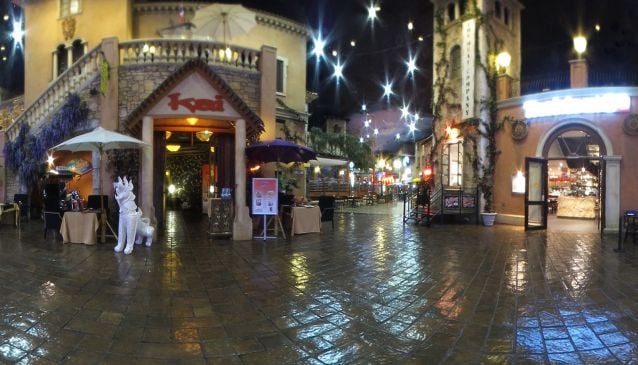 Montecasino Entertainment Complex
Family Fun
An essential stop for all Johannesburg visitors ... and residents!
Montecasino is a comprehensive, world class, entertainment complex situated in the middle of up-market Sandton, in northern Johannesburg. Designed in the style of a Tuscan Castle enclosing an Italian village, Montecasino truly is an experience for both locals and foreigners alike.
With the focus on entertainment, the complex is open 24 hours a day and its offerings include:
A huge Casino area with 1700 slot machines and over 70 gaming tables, including a Salon Prive, the only dice table in Southern Africa, and an exclusive official Poker Lounge

The enormous Teatro Theatre and the more intimate Pieter Tourien Theatre for local and international productions,

A whole cinema complex with the latest feature films,

Numerous national and international events at different times of the year
Plenty of restaurants for fine dining, e.g. Cantare and Verdiccio, as well as the more casual take-away fare,
The Bird Gardens with a large variety of colourful birds, a walk-through aviary, and a regular bird show,

The Piazza, an outdoor square with its musical fountains and outdoor stage on which a host of entertainment takes place, and,

Numerous retail stores, including the well-known Skoobs Bookshop.
Montecasino also includes 3 entirely different styles of Hotels, suitable for a one night stay or a week long holiday away from it all:
The Palazzo Hotel, which is a sophisticated, elegant Hotel for both business or leisure purposes
The Southern Sun Montecasino, which is a contemporary Hotel, designed for those who enjoy their comfort in a modern setting, and
The Sun Square, which is for the person with an eye on his budget but who still likes the feel of a chic Hotel.
Conference facilities are available in various options and sizes, making Montecasino the ideal place for an executive to combine business with pleasure – without having to leave the complex!
Montecasino is easily accessible by road – it is just 2 km away from the William Nicol Road off-ramp from the N1 freeway. It is also easily accessible by means of the Gautrain, which runs from OR Tambo Airport to its Sandton Station, from where you can catch a Gautrain Bus directly to Montecasino. There are plenty of shuttles and taxis servicing Montecasino, so getting to and from your entertainment is in itself a pleasure!
Montecasino is truly one of those places that you just have to see and experience whilst you are in South Africa. Your visit would not be complete without at least a day if not longer being spent its amazing vibe and splendour.